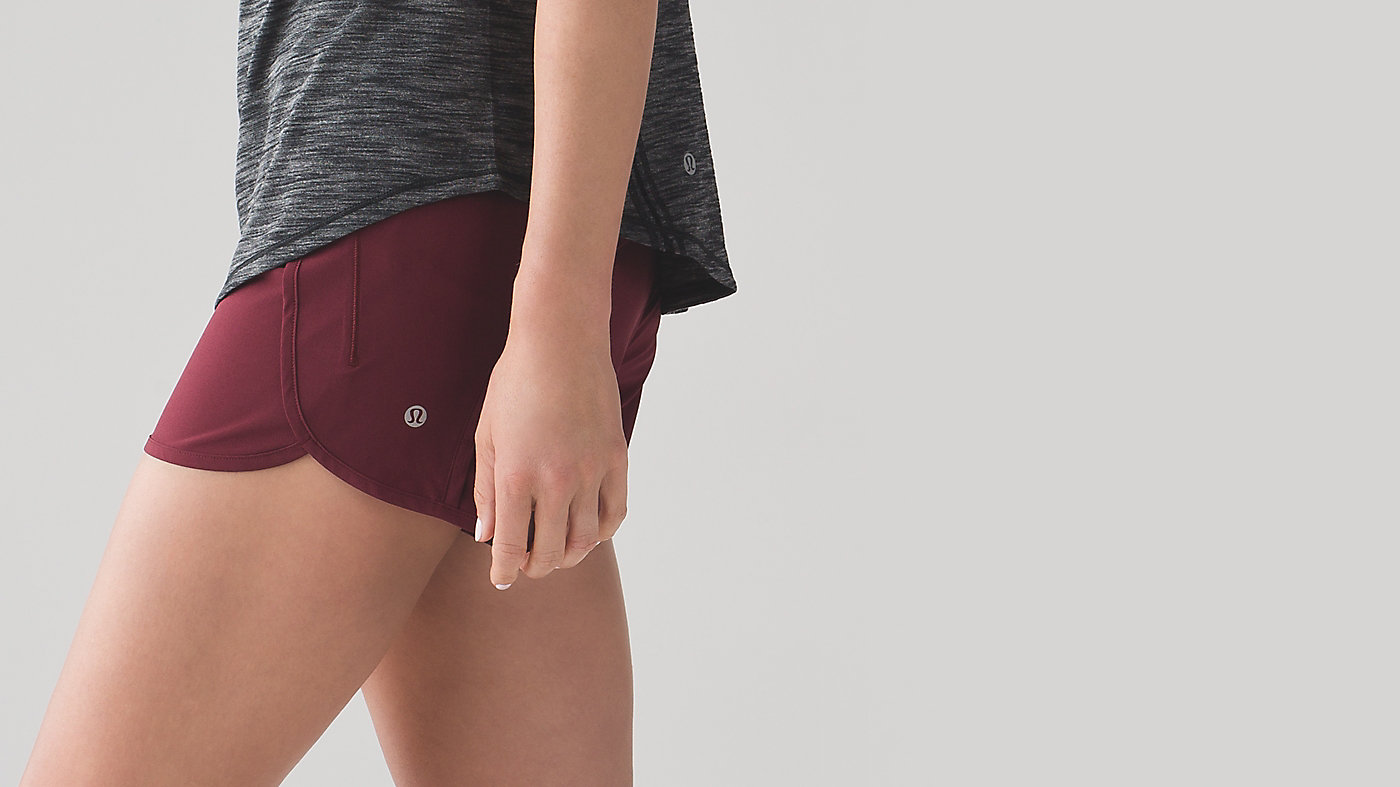 Article conçu pour
La course
---
lycra®
Le tissu extensible conserve sa forme grâce à l'ajout de fibres Lycra®
---
ceinture à trois poches
Vous offre plusieurs options de rangement
---
sensation détendue
Vous donne la sensation géniale de n'avoir aucune embûche; il repose loin du corps pour vous permettre de bouger comme bon vous semble
---
DOUBLURE LÉGÈRE
Doublure légère pour plus de confort et de soutien
---
taille moyenne
La taille plus haute procure plus de couverture et de confort
---
Ceinture confortable
La ceinture lisse repose à plat sur votre peau sans s'y incruster
---

Run Times Short *4-way Stretch
is rated out of
5
by
295
.
Rated

5

out of

5
by
Jmom627
from
Perfect for maternity!
I love these shorts! I just purchased 2 of them in a size 4. I'm 5'2, petite, and am now 28 weeks pregnant with my third, so my belly is pretty huge at this point. These shorts are sooo comfortable to wear. They roll under the belly just fine, don't cut into my skin, and my pre-pregnancy lululemon size fits perfectly! I'm excited to continue wearing these through the remainder of my pregnancy, as well as afterwards. I love the 4" inseam as I can't imagine myself wearing anything shorter. LOVE.
Date published: 2017-05-31
Rated

5

out of

5
by
kellybelly13
from
Favorite shorts
I was recommended these shorts or the speed shorts by a Lululemon educator. The speed shorts, while cute, fit like spandex and were very short on my legs and I wanted a more loose fit. I purchased these shorts and absolutely fell in love, so much so that I went back for a second pair! They fit wonderfully and are comfortable enough to lounge in or run in. For reference, I'm a size 6, 5'10" , 135 lbs.
Date published: 2017-05-28
Rated

5

out of

5
by
LAB110
from
Best running shorts for tall girls, but need more patterns!
These are my go-to run shorts (5'8", 145, size 8 is best). I've tried other lulu shorts (trackers, hotty hot longs, and mind over miles), but none is better than the run times. They do not ride up. The fabric is light and silky, so I've never had a chafing problem with these, even after 10+ miles. Having the pockets in the waistband keeps your stuff comfortably away from your legs while running, but it would be great if there were a few more pockets or a larger phone-sized pocket. Be careful about your color choice, though--I've got these in the royal color, which is a gorgeous blue, but the sweat shows in a big way. Lulu--please make these in more patterns because those seem to show the sweat less than the solid colors.
Date published: 2017-05-28
Rated

4

out of

5
by
triandCF
from
Love some, though inconsistent
I have multiple pairs of these shorts and for the most part, I absolutely love them! All fit very consistently, with one exception. One pair has stretched out and overall fits poorly, which has worsened with wear. The waistband fits like it is twice the actual size, and the area with the legs are baggy.
Date published: 2017-05-26
Rated

5

out of

5
by
hmf12
from
Closet staple!
I've tried on several styles of shorts at LLL and these have always been my go-to! Really wish I could love the speed shorts, but they are just way too short for my long legs. I am 5'7 and 112lbs for reference. These are a perfect fit and mine have held up very well so far and I own all the basic colors in these. I know I can always count on my usual size 4 in these and they are SOOO comfortable!
Date published: 2017-05-25
Rated

5

out of

5
by
LuluRunner802
from
Favorite shorts
I love these shorts! They are so comfy and I have no issues with riding up or with performance so far. The waistband is great and these are lightweight, perfect for summer running. I have noticed some variation between colors/prints in terms of fit and comfort (I like the fit of some pairs better than others).
Date published: 2017-05-24
Rated

3

out of

5
by
LauraLee82
from
Fabric is pilling after one wash
I purchased these in my local store in Phoenix less than a month ago. I have worn them two times and washed them one time and the rear end is starting to pill or get snaggy after one wash. I have a few other pairs of these, so I believe it is a defective pair.
Date published: 2017-05-23
Rated

3

out of

5
by
laurenruns87
from
waistband stretched out quickly :(
put these shorts on in the store, and loved them! they fit so well and were so comfortable. But unfortunately, after being worn only a few times (3 maybe?) just being worn around the house/ running errands, the waistband is HUGE. I already had to size up because they're too tight for my muscular thighs if i get my normal 6, but now the waistband fits like a 12 (im guessing) and i have the drawstring pulled so tightly that the bunching is uncomfortable. such a shame for almost $60 shorts..
Date published: 2017-05-18
Rated

3

out of

5
by
kfs93
from
Elastic in waist stretched after only two wears!! Can't run in these!
I'm a runner and got these to be a summer running staple. I made sure to try them on in-store so that I could make sure to get the right fit. The sales associate in the store confirmed that the size was correct so the issue must be with the product, because after wearing them twice the waistband now sags and they fall down! I can't use the back pocket to store anything, either, because the shorts just fall and fall. I end up hiking them up while I run - this shouldn't be happening! These were perfect when I bought them and I'm not sure how they stretched after only two wears.. I'm really disappointed. Definitely bummed!!
Date published: 2017-05-08
Rated

5

out of

5
by
orange522
from
My favorite shorts!
I absolutely love these shorts, they are great for running, working out at the gym, or just lounging around. I have them in 3 colors and plan to get more. I would definitely recommend them!
Date published: 2017-05-07