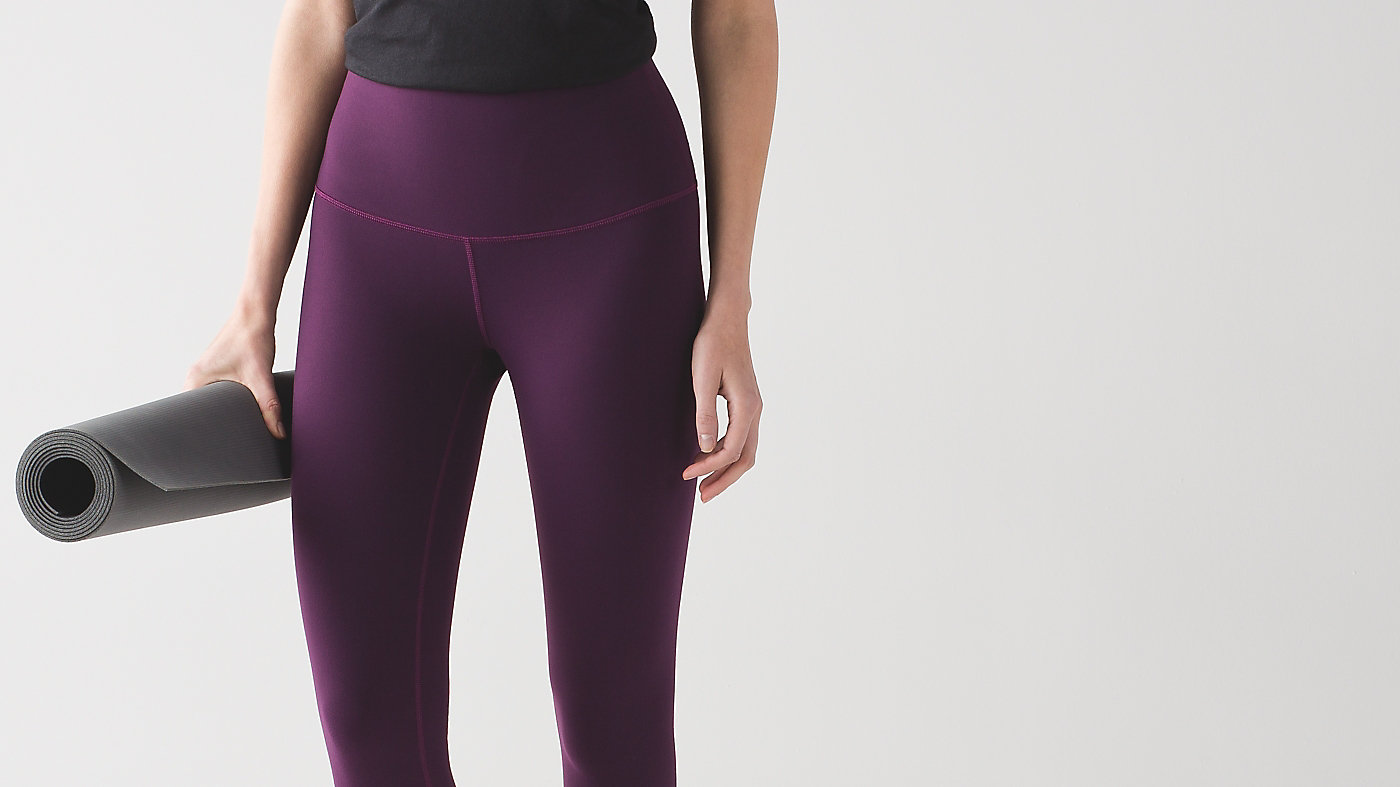 Article conçu pour
Le yoga
---
lycra®
Le tissu extensible conserve sa forme grâce à l'ajout de fibres Lycra®
---
ceinture confortable
La ceinture plate ne s'incrustera pas dans la peau
---
poche à la ceinture
Poche au niveau de la taille pour vos essentiels
---
poche à la ceinture
Rangez vos clés ou votre carte dans la poche à la ceinture
---
sensation caressée
Conçu pour vous procurer une étreinte près du corps; il reste près de vous et bouge avec vous
---

Wunder Under Crop (Hi-Rise) *Full-On Luon
is rated out of
5
by
74
.
Rated

1

out of

5
by
Alek
from
Terrible construction, ripped seams
I have had these crops for some time over a year, and the seems are now ripping away from the material of the rest of the pants between the legs. Its like they were not made with strong enough material to support the seams? I have a number of other pants from Lululemon, including pair of 10 year old grove pants that are still in decent condition. These do not measure up. For the amount of money these crops cost I am incredibly disappointed with the way that the material and construction of the pants has held up.
Date published: 2017-06-08
Rated

1

out of

5
by
lilo82
from
Terrible...
I echo all of these reviews. The quality of these pants is not the same as other items. Major pilling and now I have a hole in my pants. They have always been washed in cold water with and hung to dry. Would not recommend these pants. Very disappointed
Date published: 2017-01-17
Rated

5

out of

5
by
lululemon416
from
Great Crops! Tighter Fit
These are my go to crops for weights, running, anything! However, I do have muscular legs so they are a bit tight in my calves. They have held their shape and quality well through washes. I went up a size, because I know I will be bending over and squatting in them -- and they are a tight fit. Definitely a staple item!
Date published: 2017-01-17
Rated

1

out of

5
by
Mrshoy28
from
Terrible and disappointing
It's unbelievable. For almost $100, this is what you get. They wore great the first day, then after that, terrible pilling between the legs. Yes, my thighs touch. No, I am not overweight. Will not be buying these again and has left a sour taste in my mouth for the whole brand. The quality used to be so great. Very disappointing.
Date published: 2017-01-14
Rated

1

out of

5
by
Barr
from
Terrible quality
I wear these pants frequently, as i do with most of my lululemon items. The quality of these pants is not the same as other items. After only a few wears i started to notice pilling all over. The pants have always been washed in cold water with only lululemon clothes and hung to dry. For the price of the pants i would expect that the quality would be better. Would not recommend these pants. Very disappointed!
Date published: 2017-01-08
Rated

1

out of

5
by
StephJ
from
HORRIBLE QUALITY
I spend so much money on Lulu lemon clothing, I take care of all of them by hand washing and air drying it. So with this pair I treated it the same. The fit of these are really nice and they stay up well, without you having to fix them. The price is insane for horrible quality. So much piling around the waist band and between the inner thighs. Its a pretty unsightly look, especially in my profession as an ECE your sitting on the floor a lot crossed legged, you don't want people to see that! I find that I only have a problem with the clothing that is made with the "Luon or Full-on Luon" fabric. I will be looking closer at the materials if I plan to purchase anymore clothing. I took a picture to include with the review, too bad that option is not available :(
Date published: 2017-01-04
Rated

1

out of

5
by
ashleyncamp
from
Disappointing quality
I'm a definite lulu addict, but something must've been up with this pair. I can handle the inevitable pilling on all lulu leggings after wearing them for a while, but with this pair of crops I was disappointed to realize that the stitching on the waist band has actually come apart. It hasn't ripped entirely, but it's on its way there. It can't be a sizing issue as this is at least the 5th pair of the same size I've had and my weight/body composition hasn't changed significantly. Normally I'm a satisfied lulu consumer, but this one has me rethinking buying again.
Date published: 2017-01-04
Rated

3

out of

5
by
lorrisav
from
just average,
I have so much product from Lululemon....it pretty much dominates my everyday wardrobe!! I really have never had any issues with any of my products but for some reason these crops having been giving me pilling issues:( Like others, I diligently follow the recommended washing instructions and wash these inside out but for some reason they continue to pill. I still wear these on occasion but most certainly don't feel my best when wearing them;( I may have to say good bye to luon and stick to luxtreme.
Date published: 2016-12-31
Rated

2

out of

5
by
Dezner
from
Bad quality
I've owned a few pairs in black and loved them, however after one wash there are two small holes in the seam of these pants. Given the high cost of lululemon products I am disappointed in the quality. I have been an avid customer for 13-14 years but have been finding the quality steadily declines in relation the increase in cost of the garments. Although these pants were comfortable when I wore them that ONE time, it was definitely not Luon either, it's something else entirely.
Date published: 2016-12-29
Rated

2

out of

5
by
nchoi
from
Pilling Issue
I've only had these bottoms for a month or so and they've already started pilling everywhere. At first, I tried to remove them by hand, but it just became more severe with every wear and wash. I've tried washing them alone and turning them inside out as well, but nothing seems to work. Very disappointed - the fit is great and they're super comfortable, but the pilling is too serious of an issue to consider buying a new pair for the listed price.
Date published: 2016-12-12